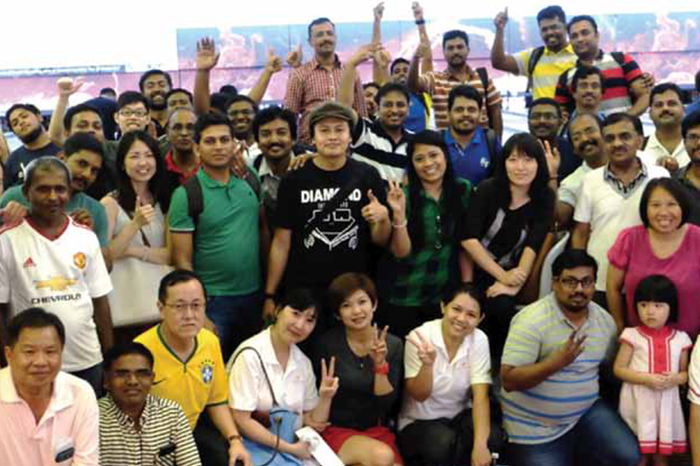 Once again, it's time for the Annual JEL Bowling Championship. This year, the event was held on 27 May 2016 at the Civil Service Club, Bukit Batok. Sixty participants were divided into teams of 4 players per team. The evening started off with a generous buffet spread of International Cuisine for both our enthusiastic bowlers and their band of supporters. It was the intent of the championship that no "strong or favoured team(s)" would be intentionally formed. As a rule, except the seeded men and ladies in each team, all other team members were selected by way of drawing lots.
The competition was a close and evenly matched battle from the start. The bowlers struggled to give their best effort, despite the lack of practice, to excel in the competition. The fervent supporters were, on the other hand, relentlessly motivating, encouraging and noisily cheering their teams to do their best, to the point of becoming hoarse.
One thing is for certain though, everyone was really enjoying themselves—laughing, jeering and cheering whenever the teams got 'strikes' or 'picked up spares'! With so much excitement in the air, no one felt bored and the adrenaline kept pumping. Laughter erupted throughout the whole evening and there was never a dull moment. Eventually, the competition came to a close with Mr Alan Phang, GM of Human Resources & Administration Division, and Mr Jeffrey Tan, HOD of HSE Department, giving away prizes to the top 4 winners of the Individual Men and Ladies title, top 4 teams and 4 consolation teams (via Lucky Draw). To put the icing on the cake, our CEO & MD, Mr Hiroshi Ide, contributed additional prizes to all the Champions.
Everyone went home a "Winner" as they had either received valuable prizes, or enjoyed the sumptuous food served, or simply had a jolly good time enjoying the excitement. It was a truly extraordinary team bonding event. As the saying goes, "laughter is the best medicine!"