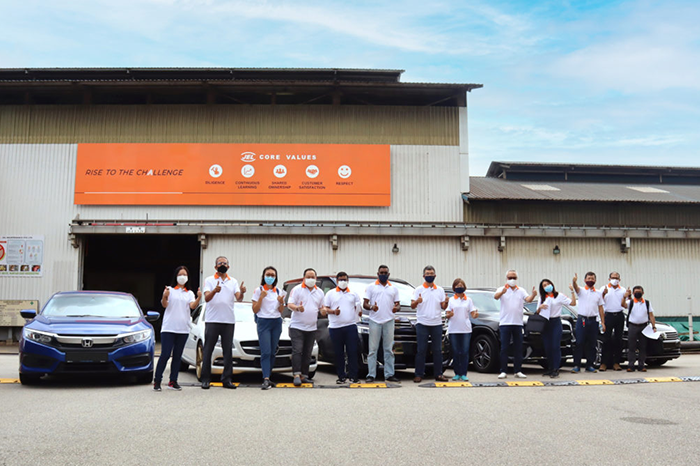 Our line-up of ten volunteers gathered for a group picture in front of the five cars near the front porch of JEL building. It was the first volunteering event: 'Meals-on-Wheels' – a joint project with Touch Home Care to deliver meals to homebound elderly residing in Jurong and nearby neighbourhoods. Our Managing Director, Mr Akamatsu who lent his support for the inaugural event and shared at the briefing, "This is a new event, and it's an avenue for us to engage and give back to the community, especially in Jurong area where our company is located." Our special thanks to Mrs Akamatsu, who was the special guest, for gracing the event.
The five teams, each assigned a zone, leapt into action. With an average of 15 households in each zone, our teams completed the meal delivery in considerably fast time of about two hours. Well done, Team-JEL!
Mr Charlito Almarez, Quality Assurance Engineer who had never done volunteer work before, recounted his experience: "It's heart-warming to be able to bring a smile on the face of the elderly. That makes it all worth." 
Another participant from EPC division was Ms Koh Pei Ying. "It was exceedingly enjoyable. During the meal delivery, we encountered this block in which walking aids had been installed along the corridors and doors of all units. It struck me the struggles of the old folks who have mobility difficulties, and how they have to cope on a daily basis. There's one thing I am sure of – we can and should do more. Through this Meals-on-Wheels event, I witnessed how teamwork can make meal distribution easier and timely. Together, we can help more people in our community," said Ms Koh.   
Thank you volunteers for creating a fabulous sense of community among us with your enthusiasm, excitement and generosity.