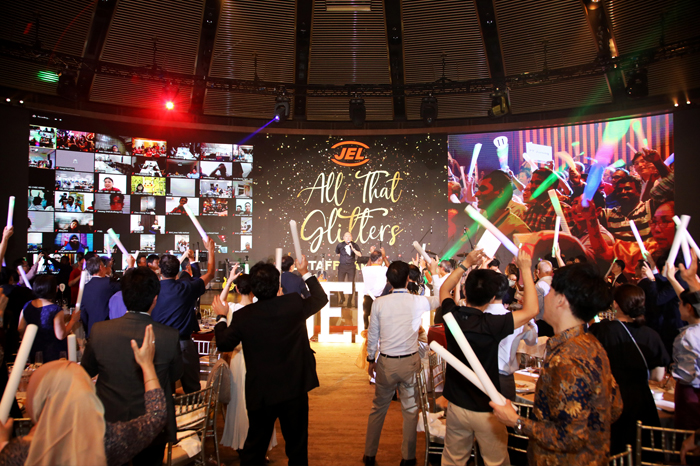 This year's Staff Party could not have come at a better time with the resumption of large-scale physical events after nearly 3 years of stoppage due to the COVID-19 pandemic. Hosted at the renowned Capella Hotel, we were joined by over 300 staff and overseas colleagues who attended virtually.

The night started out with some light entertainment featuring a 360-degree video booth, a photo booth boasting a variety of props, a caricature keychain drawing booth and more.

To officially kick-start the party, our MD, Mr Watanabe, welcomed our Chairman, Mr Bob Tan who was accompanied with a dynamic lion dance performance. Mr Watanabe went on to share his goals for 2023 and expressed his appreciation for all staff and management in his speech.

The opening highlights were followed by a Traditional Prosperity Lo Hei, whereby everyone can be seen tossing the Lo Hei as high as possible for greater luck. Amidst the ongoing feast, Mr Watanabe was invited to the stage to present the safety and i-JEL 2022 awards.

With this year's theme set as "Glitter", everyone was dressed to the nines. Some colleagues who particularly dazzled in their outfits were invited to the stage whereby those who stood out were voted best dressed.

Turning the party up a notch, Mr Watanabe surprised everyone with his spectacular performance as he sang with the ease of a veteran. Following the end of Mr Watanabe's performance, Mr Bob Tan and Mrs Watanabe were invited to lead the lucky draw segment. During which, many lucky colleagues walked away with prizes.

As the night drew to a close, everyone toasted heartily to a promising 2023!